Editorial
Absolute minimum: permanent shelters
Dramatic photos and videos of people waiting for rescue while perched precariously on rooftops or fleeing their homes amid a raging storm and rising floodwaters invariably emerge whenever a typhoon hits the Philippines. The evacuees are then crowded into temporary evacuation centers such as school buildings, basketball courts, or sports arenas that are not really built to withstand natural disasters, or are themselves located in equally vulnerable areas.
One is reminded of Tacloban's sports arena known as the Astrodome, located beside the sea, which was swamped by the storm surge generated by Supertyphoon "Yolanda" in 2013. People who had sought refuge inside had to scamper to higher areas. Most recently, as Supertyphoon "Odette" pummeled parts of Visayas and Mindanao, the Siargao Island Sports Complex (budget: P600 million and opened just last November) was ripped apart; a video clip posted online showed the exact moment when the roof of the sports complex gave way to strong winds, leaving people who had evacuated to the building ducking behind upturned tables to protect themselves.
In the aftermath of Odette, House deputy minority leader and Bayan Muna Rep. Carlos Isagani Zarate has called on the Senate to fast-track a bill mandating the establishment of disaster-resilient evacuation centers to be built across communities nationwide. The current law on disaster management—Republic Act No. 10121, enacted to strengthen the Philippine Disaster Risk Reduction and Management System—does not specifically provide for the construction of dedicated evacuation centers.
"We can save lives by ensuring that sturdy and typhoon-resilient, climate change-adaptive evacuation centers are located at a distance safe from waters and landslide-prone areas in every two to three contiguous barangays," said Zarate.
The consolidated measure, or House Bill No. 8990, which was passed by the House of Representatives last March, proposes that these permanent evacuation centers feature sleeping quarters, separate shower and toilet facilities, and health care areas that include isolation or quarantine corners, among other amenities. It also mandates that they be constructed and designed to withstand supertyphoons or wind speeds of at least 300 kilometers per hour (kph) or seismic activity of at least 8.0 magnitude.
For reference, Odette—this year's strongest typhoon—had initially packed winds of up to 260 kph. The Bohol earthquake in 2013, meanwhile—the country's deadliest earthquake since the 1990 Luzon earthquake—was recorded at 7.2 magnitude.
Zarate, who filed the original bill in October 2019, proposes to build an evacuation center in two or three contiguous barangays "big enough to accommodate the target population, strong enough to withstand natural calamities, and situated away from waters and landslide-prone areas." HB 8990 also specifies that the structure must be elevated and high enough to be out of reach of a storm surge of at least 10 meters, should not be less than nine meters in height, and designed according to earthquake load standards.
Zarate cited the experience from Yolanda when even school buildings that were used as evacuation centers were destroyed by the typhoon, causing deaths among the evacuees. "Lives have been wasted," Zarate stressed, "because of the negligence on the part of the government to ensure that a program for disaster preparedness and risk reduction would really lessen the impact of calamities on the lives of people."
The lack of such a comprehensive program is a gaping hole for a country that has seen seemingly endless devastation from natural disasters especially over the last decade, and which ranks ninth in the 2020 World Risk Index (WRI). The WRI, which assesses the global risk of disasters arising from natural events such as earthquakes, storms, floods, and droughts, categorized the Philippines as "very high" in terms of the country's exposure to natural hazards. Despite that extreme vulnerability, the Philippines' coping capacities (disaster preparedness, early warning, medical services, etc.) was ranked only "medium," while it received a "high" ranking for its lack of adaptive capacities covering such factors as ecosystem protection and investments in public health.
The country is battered by an average of 20 typhoons a year, yet every time a storm hits, government response is largely reactive, and, as seen in Odette's wake, still inadequate to deal with the recurring destruction. Experts have warned time and again that supertyphoons will be the new norm due to climate change, and these will cause extreme losses in human lives and property. Building stronger—stronger infrastructure, communication networks, communities, support institutions—is the absolute minimum for a country facing such existential threats.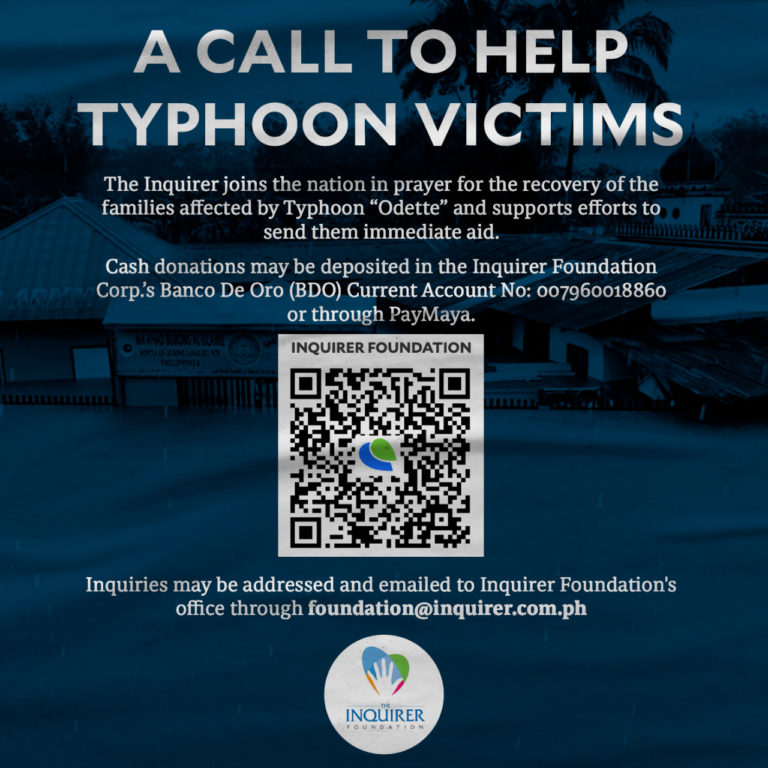 Subscribe to INQUIRER PLUS to get access to The Philippine Daily Inquirer & other 70+ titles, share up to 5 gadgets, listen to the news, download as early as 4am & share articles on social media. Call 896 6000.