QUESTION THE BOX
On the eve of great hopes
After Supertyphoon "Odette" ravaged the country, and while different groups scrambled to get relief goods together, another storm erupted online.
On Facebook, a longtime Duterte supporter claimed that the government had already set aside a billion pesos' worth of aid without asking for assistance from anyone, and was therefore proactive rather than reactive. More posts from other users followed, this time mocking the Vice President's relief efforts, and neglecting to mention that she had local networks preparing for Odette's onslaught long before the storm.
In response, other users countered the need to compliment the government, since the NDRRMC has an existing mandate to have relief goods ready anyway. Others contradicted the original post, citing how President Duterte later said that government funds had already been depleted. Still others criticized the government, and called for Mr. Duterte to be held to the same standards that critics had set for President Noynoy Aquino after Supertyphoon "Yolanda."
The original post was misleading in the information it used to criticize the Vice President, and reduced the many possible roles of leaders to a dichotomy of proactive vs. reactive.
My research work in risk communication points to a need for both proactive and reactive leadership, especially for unprecedented, unpredictable hazards. Proactive methods are for the endpoints we expect, the hazards whose outcomes are fairly predictable, the scenarios that we can plan for. Odette was not that kind of storm.
To be proactive alone is insufficient, and contradicts the nature of science itself. Science is not absolute; the outcome of storms can be predicted only within a narrow range of certainty. We should prepare for the worst-case scenario, but we must be able to think on our toes—react—when reality surpasses all imagination. This does not mean that governments should not prepare for hazards; on the contrary, both proactive and reactive efforts must be part of the government's arsenal.
A good leader should plan for the long term, using data from systematic scientific research; and yet a good leader also knows how to work in the short term. Such leaders appreciate the volatility of hazards, and in acknowledging uncertainty also demonstrate their wisdom. They recognize that many unexpected scenarios are possible, that not everything is within their immediate control, that not all help is financial or material.
Yes, proactive work is the better option; but flying to a disaster site, donating relief goods, and talking directly to those affected should not be demonized as though there were a competition on who has the purest intentions at the earliest time.
Empathy is valued in a time of great loss. People do need food and water, but they are also grateful when someone reaches out to them, steps out of the surveying helicopter to share their footsteps on the muddy ground, embraces them and reassures them and walks their now wild and damaged paths. That kind of help cannot be given in advance.
Mocking candidates for their efforts at bringing aid to those who need it is neither helpful nor productive. It is malicious, petty, and no different from the work of the neighborhood gossip who wants to foment division for the sake of supporting an "idol." And when that mockery is used to drive people to useless anger, or, worse, encourage them to directly attack those who criticize them, then it is childish and vindictive. It has no place in a time of great tragedy, and it should have no place in a country that seeks to build itself back better and wiser.
Yes, we must learn from Odette and cast ourselves free of the "resiliency narrative" that makes us expect problems rather than mitigate them. But for now, help is needed for what proactive work could not achieve.
I don't believe any of us would want to be the person that sneers at generosity, that laughs at others' efforts, that incessantly ridicules a public servant doing many good deeds. It's almost like being an innkeeper turning away the Christ child's mother and foster father because they had no prior reservations—or worse, the innkeeper who mocks the one providing the stable, all because it's "reactive."
May we be the innkeeper who thinks on their toes, reacts, and acts in radical love—no matter what time of the year.
Merry Christmas, everyone.
—————-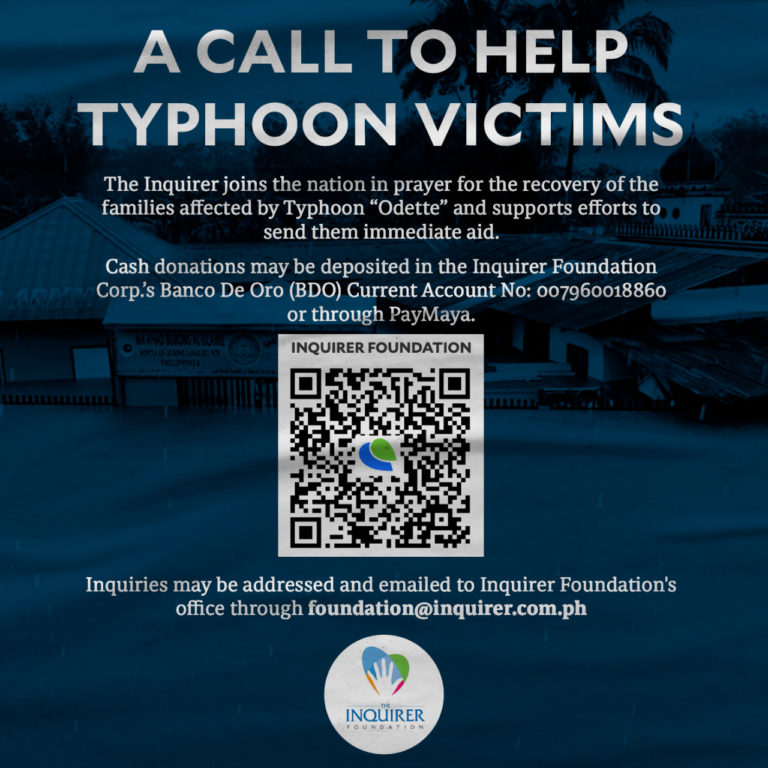 Subscribe to INQUIRER PLUS to get access to The Philippine Daily Inquirer & other 70+ titles, share up to 5 gadgets, listen to the news, download as early as 4am & share articles on social media. Call 896 6000.