Pinoy Kasi
To survive and thrive
I'm afraid that the casualties and destruction from Supertyphoon "Odette" (international name: Rai) may have been, to a great extent, collateral damage from our war with COVID-19, with which we have become so preoccupied at the cost of forgetting other disasters and emergencies.
Remember the time when the National Disaster Risk Reduction and Management Council was described as "OA" (overacting) when it would issue typhoon warnings, complete with ominous-sounding alarms, through mobile phones? Then they disappeared completely, when they could have helped with Odette.
I've wondered if there is a kind of a regional discrimination at work as well. "Ah, may bagyo sa Bisaya" always, for Manila-based people, could as well end with a "lang." ("There's a typhoon coming to the Visayas … only.")
The Visayas, so close (we'll get rains too), and yet so far, and there's a tendency to think as well "Visayas and Mindanao" and Mindanao, even farther away, is prone anyway to the "amihan" or eastern monsoon, hitting between November and February, as being never quite that strong.
The climate emergency, the preferred term now for climate change, has worsened our vulnerabilities when it comes to these typhoons in terms of when they strike, how they strike, and the destruction they leave behind.
I've been running a school since early this year with the majority of students in Visayas and Mindanao doing online classes, so their attendance has provided us with our own metereological service. As early as last Wednesday, attendance in classes was dwindling … and then complete silence, not even text messages, which worried me.
Looking back now, it was clear people were really caught unaware, followed by shock. Our Cebu campus coordinators sent in photos. The shattered glass said everything about the ferocious winds.
Casualty figures slowly trickled in, reminding us how remote and disconnected so many places are in the Philippines. We depend foremost on personal news. We are always grateful not knowing anyone hurt or killed, but it still hits hard to get news like that of my driver, whose teenaged nephew was killed in Iloilo, hit by a tree that fell during the typhoon.
I truly believe that so many "accidents" can be avoided. Life is one big risk but it helps to be conscious about what multiplies, amplifies those risks—forces of nature as well as human lapses.
In these COVID-19 times, I'm convinced, too, that our risks are multiplied without face-to-face classes. In the last two or three years right before the pandemic, we had built up disaster preparedness lectures and activities in schools, including earthquake and fire drills, emergency kits, supplies to stack up.
When we return to those face-to-face classes, we have to give those disaster preparedness and mitigation classes top priority, with COVID-19 and infectious diseases rolled in there since the principles of agility, discipline, and compassion are the same main ingredients for responses to all kinds of disasters.
One important need we keep neglecting: how can a nation surrounded by the seas not have mandatory classes in swimming, life-saving, and cardiopulmonary resuscitation or CPR? (Check cprcertified.com to read about how the procedure has changed over the last decade.)
Most importantly, we are not tapping all the advances in ICT (information and communications technology). We are quick with gossip, rumors, and misinformation; why can't we be even quicker with life-saving messages for disaster responses?
The networks have to be in place, waiting to be activated. I was caught in a super typhoon in Hong Kong many years ago and marveled at how quickly the mobilizations went, multilingual advisories not just over mass media but public address systems in subways, malls, and hotels, until the whole city shut down, except for emergency services. Here, I've seen vital services being the first to shut down, leaving people alone to fend for themselves and survive.
Let's make sure that our own personal networks, with family and friends, our neighborhood associations, and our barangays, are ready for all scenarios, first priority for the elderly and the children, and let's not forget our pets—lose them and the anguish will be one of the most difficult aspects of recovery.
A simple aim as we prepare for 2022's disasters: not just to survive, but to thrive.
——————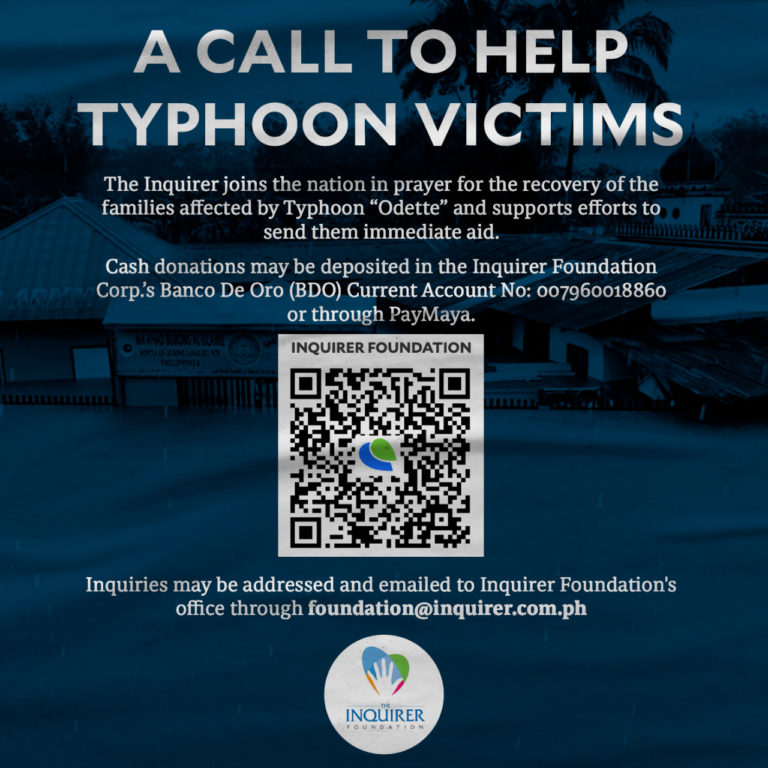 Subscribe to INQUIRER PLUS to get access to The Philippine Daily Inquirer & other 70+ titles, share up to 5 gadgets, listen to the news, download as early as 4am & share articles on social media. Call 896 6000.