Editorial
Extra-busy rumor brigade
Presidential spokesperson Harry Roque has opened a new front in Malacañang's bitter campaign of words against Vice President Leni Robredo. After training his sights on the second-highest ranking official in government, Roque has moved on to two young women who just happen to be Robredo's daughters. Now Roque claims the viral hashtag #NasaanAngPangulo somehow originated from or was propagated by the Robredo siblings, even if the tweets he offers up as "evidence" make no mention of the President, that particular hashtag, or any word of criticism.
That the mouthpiece of the President needs to resort to attacking young women is indicative of Roque's paucity of credible facts with which to defend his boss. To recall, the President opened his first public address after Typhoon "Ulysses" wreaked havoc on most of Luzon not by expressing his sympathies for the victims or issuing an urgent call to action. Instead, startlingly, he chose to go on the attack, accusing Robredo of, among other things, being behind the public calls for his presence, usurping his authority to call on troops to help in the rescue and relief efforts, and presenting herself as the lone savior of the typhoon victims. He also questioned her whereabouts on the nights she was up working, resorting to an ancient trope about the Vice President being a woman and yet traipsing all over the country at all hours.
It seems many people not only disagreed with the President's reproof of Robredo, they were also willing to express their umbrage by way of their own money and efforts. Robredo posted on Facebook that "after I was insulted and lambasted on national TV, our partners' donation drive ballooned to P50M today. It is also the same with the in-kind donations we have been receiving at the office." Most of the messages that accompanied the donations, she said, mentioned the donors' desire to help the typhoon victims and to show "their appreciation for the kind of work that our office has been doing for our kababayans."
Shouldn't that be the main concern at this time—how every available unit of government, every able hand with clout and influence to call on concerned parties and commandeer resources, can extend help unstintingly to the hundreds of thousands of distressed, hungry Filipinos battered and displaced by multiple calamities?
From its public timeline, Robredo's office began acknowledging receiving desperate calls for help on the evening of Nov. 13. No word was heard from the Palace as bloodcurdling recordings of screams of inundated Cagayan residents said to be on their rooftops by this time surfaced on the internet. Roque, meanwhile, turned up at a karaoke bar in Baguio City, maskless and giddily belting a tune on stage in what he justified later was an attempt to "unload," never mind that health protocols and warnings from experts have said that singing in enclosed spaces with other people remains a high-risk activity for COVID-19 transmission.
Robredo said that she coordinated with the Philippine Air Force, the Coast Guard, and the Philippine Army to request them to send rescue vehicles and personnel to the affected areas in Cagayan. The military itself appears to have found nothing objectionable or irregular with this move; its Facebook page reposted verbatim the Vice President's updates, essentially confirming their accuracy and validity. Later on, spokesperson Maj. Gen. Edgard Arevalo also said the use of military helicopters and other vehicles to transport relief goods gathered by the Vice President or any other public or private individual "is not an issue," adding that all that was needed was proper coordination.
But the President's minions couldn't resist piling on, and so presidential legal counsel Salvador Panelo accused Robredo of hitching a ride on a C-130 in her visit to Catanduanes—a lie, it turned out, which forced Defense Secretary Delfin Lorenzana to apologize to the Vice President for his "report" that mentioned Panelo's baseless claim. So far, he is the only senior government official to do so. Panelo issued a mealy-mouthed clarification that fell far short of an apology.
The President is grossly and dangerously ill-served by wrong information fed to him by his advisers, whether their target be the Vice President or any ordinary person shoved in the crosshairs of Malacañang's attack dogs and troll army. As the country reels from catastrophe to catastrophe, the leader of the country should, at the very least, commend those who had the good sense to rush to the succor of their fellow citizens and exhort his government, and the rest of us, to do the same.
Your daily dose of fearless views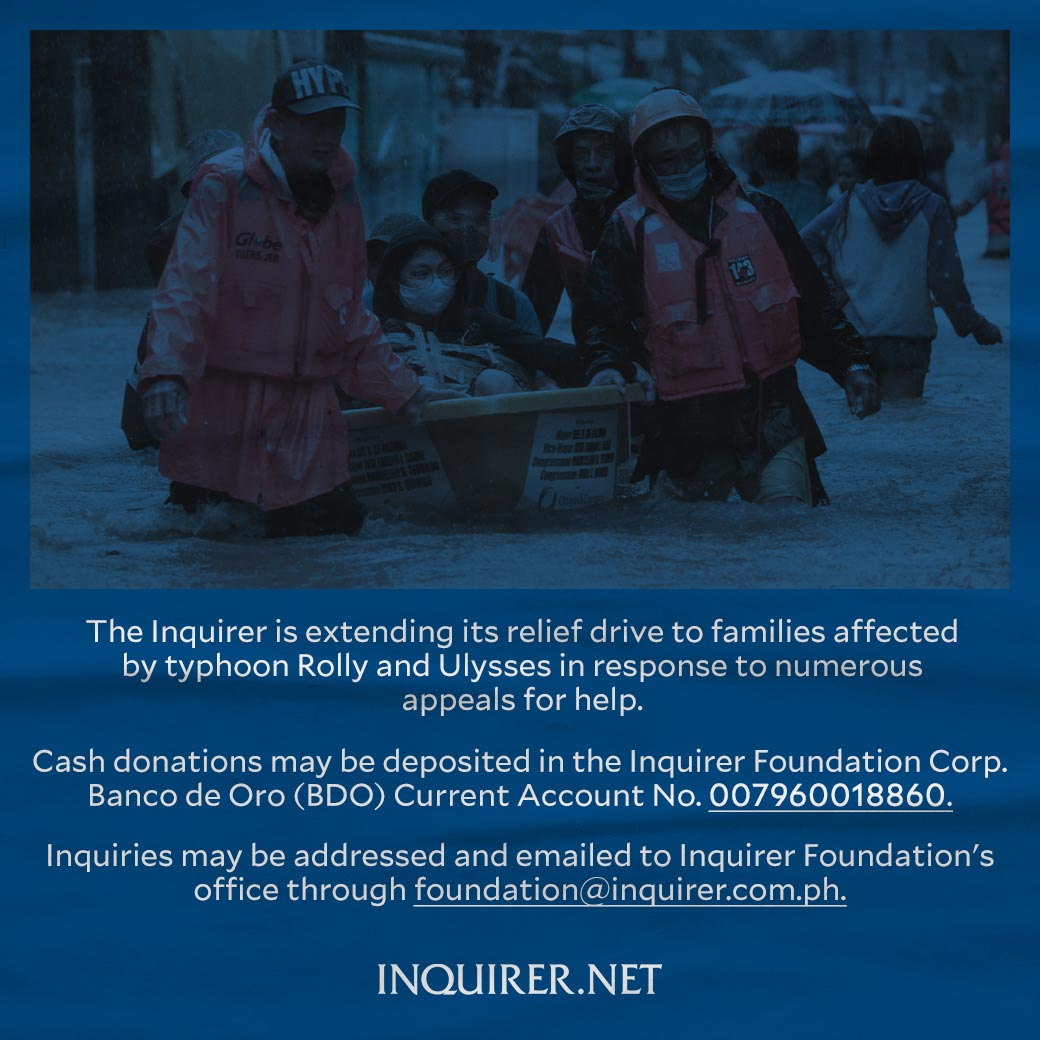 Subscribe to INQUIRER PLUS to get access to The Philippine Daily Inquirer & other 70+ titles, share up to 5 gadgets, listen to the news, download as early as 4am & share articles on social media. Call 896 6000.