Glimpses
Omicron and Odette: Revealing the true and the fake
It takes the worst of times to bring out our best. Just as the worst also reveals the worst. Bad times show the truth and the false, walk versus talk, reality versus social media creations. When the bad times come, where are they and what do they do?
Typhoon Odette has been measured as the second worst natural disaster for 2021. Happening just before Christmas made it even more painful for Filipinos. More than 400 died, more than 500,000 homes were damaged with one third completely destroyed. Then, infrastructure and crops were badly affected as well, both estimated at 30 billion pesos.
National and local governments were caught flat-footed, the typhoon not anticipated early enough as particularly destructive. But the flat-footedness was not just in preparing better but in quick reaction. In fact, the most famous statement that came out early was that the government had no more money. Later amended or reversed, probably because the backdrop of Pharmally and PhilHealth wastage made matters worse when saying that the government has no more money.
The point is, first quick reactions actually saved more lives from being lost, from illness or hunger, which is why we have systems to prepare for disasters in the first place. Again, as in practically all massive disasters, the response of civilians, or the private sector, became the crucial factor, more than government's, really. But that is culture, that is the best in the Filipino, in our hearts and not in our politics.
So, it came to pass that the social media personalities, the manufactured heroes and visionaries of Facebook, TikTok, and YouTube were mostly absent. Some managed weak statements in the media but were absent on the ground. On the ground was where Filipino were dying, were hungry, were in pain and afraid, were cold and exposed. And many political personalities were simply nowhere – meaning they were safe in their homes, some even partying because it was Christmas season after all.
At the same time, the heroes stood out again, people and groups who did not wait for elections or for great disasters to share their hearts, their presence, and their resources.
Without us recovering from Odette, now comes Omicron. Emergency on top of emergency, and the worst of times disrupt us even more. In reality, though, Omicron is again measured by its capacity to bring out the real character of people, most especially the personalities with high social media profiles. It is easy to know those who care, who share, who are dedicated to helping others, and those who only reach out through Facebook, YouTube, and TikTok without any accompanying ground presence or operations.
Yet, seeing how the worst of times reveal the true character of people, especially public servants and politicians, it is another, and maybe even bigger problem that is emerging. With the truth being displayed so openly before our eyes, we can still choose to be blind. And many remain blind, not really interested in finding out what is real or what is false, but just looking for anything that justifies their opinion.
I have no doubt that we will mostly wake up to the truth and the lies around us. It only needs for us to be disappointed with a personal expectation, or to be hurt when we discover that we are lied to, or that which we worked so hard for is just stolen from us.
Omicron is now overwhelming Metro Manila and soon all areas around the metropolis. Fear and quiet despair will again rise to the surface. We are being confronted with the fact that fully vaccinated and boosted people still get infected by Omicron. Worse, infections are quick, massive, and the daily infection cases give us hints of just how bad it is. There are simply no more quarantine facilities to handle the infected and their families. We are now totally dependent on home care and home care medicines.
Our fear comes with the realization that there are no geniuses in the face of Covid-19. There are only mainstream opinions, alternative views, and even extremists and conspiracy theorists. Mainstream is dominant, of course, because authority and resources belong to it. At the same time, any previous promise or hype that eventually did not come true has become fodder for alternative and extremist views to all the more become fixed.
The truth is that Vaccines were first presented as the silver bullet, then a silver bullet up to 90%, then up to only six months before the 90% protection goes down, then not really protection against protection but against serious symptoms and death, and now no protection with Omicron but less serious symptoms. The truth is that science is much bigger than scientists, and scientists must learn to be humble before the vastness of science.
When scientists discover by the day, authorities give mandates over longer periods. Because of mutating viruses and the uniqueness of variants, official mandates become less effective faster as well. Authority says its decisions are based on science, but science is moving and changing constantly. Authority, then, must be prepared to move and change its operational guidelines. If science cannot be fixed, neither can anything, including authorities, be fixed as well.
It is not an easy time. We are in a war zone. We need heroes and brave workers. Filipinos helping Filipinos, leaders who inspire others to reach out and share themselves.
Bayanihan. The best of Filipino culture is our strongest assurance against the worst challenges of life. Leadership is translated as the capacity to inspire Filipinos to stand strong even when their needs are great and their pain deep. Government may lead but the greater power is in the people, in the volunteers, in those who will cross the line of convenience or fear to help fellow Filipinos. Ultimately, then, not that the government leads, but people first and the government supports totally.
Subscribe to our opinion newsletter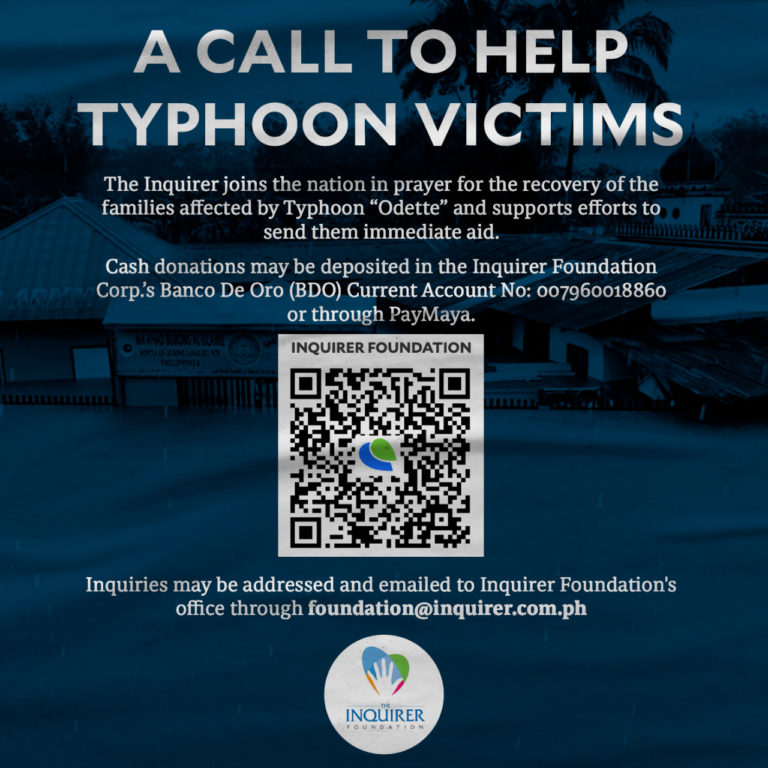 Subscribe to INQUIRER PLUS to get access to The Philippine Daily Inquirer & other 70+ titles, share up to 5 gadgets, listen to the news, download as early as 4am & share articles on social media. Call 896 6000.