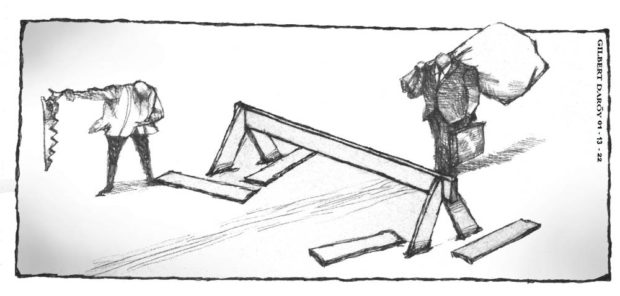 Cheers greeted President Duterte's signing into law of a measure that will make it easier for foreign retailers to set up shop in the Philippines and muscle their way into the large and lucrative Philippine market.
Under Republic Act. No. 11595 signed on Dec. 10, 2021 but disclosed just last week, foreign retailers can start doing business in the country with a minimum paid-up capital of just P25 million, a considerable reduction from the roughly P125 million required under the original version of the Retail Trade Liberalization Act of 2000.
Also, foreign retailers with one physical store need only to invest a minimum of P10 million per branch, a fraction of the previous requirement of around P41.5 million.
The amended law likewise did away with requirements that had been deemed too burdensome and steep by potential investors, including the five-year track record in retailing, five retailing branches or franchises in operation and a $50-million to $200-million net worth requirement for the parent corporation.
Senate Minority Leader Franklin Drilon, principal author of the measure, hailed RA 11595 as a "game-changer" that will "boost the country's chance to return to pre-pandemic economic growth level" by bringing in more coveted foreign money.
Drilon noted that because of stringent entry requirements, foreign retailers had shied away from the Philippines and went elsewhere in Southeast Asia, for example.
As of 2021, only 46 foreign retail corporations had registered with the Department of Trade and Industry (DTI), he said, equivalent to just two retail investors a year since the retail sector was liberalized in 2000.
In 2016 alone, Drilon said the Philippines got only $101 million in foreign retail sector investment, while Thailand had $3.2 billion; Malaysia, $2.5 billion; and Indonesia and Vietnam each with $2 billion.
The Duterte administration's economic managers are just as bullish about the potential of the new law to bring in investors in droves and to help hasten the country's recovery from the devastating pandemic that drove the Philippines in 2020 to its worst economic recession since World War II.
"The amendments will significantly aid in incentivizing foreign retailers to come in and create jobs. This will also enhance competition among enterprises, which will be beneficial to our consumers by providing more choices at lower and more competitive prices," said Finance Secretary Carlos Dominguez III.
The amended Retail Trade Liberalization Act was one of three "investment-friendly" measures that the Duterte administration wanted urgently passed to attract more foreign investors. The other two being the amendments to the Public Service Act and the Foreign Investments Act.
"The economic liberalization bills either passed or being considered by our lawmakers will be crucial to bringing in much-needed foreign investments that would supercharge the economy and create a lot more jobs for Filipinos, more so at this time when the country is recovering from the pandemic-induced global health and financial crises," Dominguez said.
Not everyone, however, is gung-ho about the new law due to valid concerns about its adverse effects on local retailers, particularly the small- and medium-scale enterprises that do not have the same scale and scope which are already extremely challenged by the pandemic that has slashed their profit to the bone.
Philippine Retailers Association vice chair Roberto S. Claudio warned that with a minimum capital requirement of just P25 million, "we will just destroy, if not decimate, our MSME industry."
"We hope the new law will deliver the purpose it was intended for,'' he said in a position paper.
As of 2020, there were 957,620 business enterprises operating in the country, of which 952,969 or 99.5 percent are MSMEs, according to the Philippine Statistics Authority.
Fortunately, there is a provision in the law for the DTI, the Securities and Exchange Commission and the National Economic and Development Authority to review the required minimum paid-up capital every three years to determine if it is indeed too low, so that adjustments can be made.
The Duterte administration has also taken great pains to allay local players' concerns, believing that there are enough provisions in the law to protect the local retailers, including the mandate to prioritize Filipino workers during hiring and the directive — although not mandatory — for these retailers to stock up on locally made goods.
Dominguez said, "We hope this will also aid in generating much-needed employment and income for Filipinos."
Philippine MSMEs and the millions of Filipinos who depend on them for their livelihood can only hope that the government will be true to its word that the new law will bring in the promised benefits and successfully "strike a balance between encouraging foreign investments and stimulating the development of the local retail sector."
The last thing pandemic-weary Filipinos need is a law that could cause more harm than good.
Subscribe to INQUIRER PLUS to get access to The Philippine Daily Inquirer & other 70+ titles, share up to 5 gadgets, listen to the news, download as early as 4am & share articles on social media. Call 896 6000.