Kris-Crossing Mindanao
Triple whammy
General Santos City—It has been a week since Supertyphoon "Odette" (international name: Rai) made numerous landfalls in many parts of the Bicol, Visayas, and Northern Mindanao regions, and left massive devastation in its wake. Predictably, among the most affected were impoverished communities in the hard-hit areas. Many of those affected did not only lose their houses but beloved family members as well. In Bohol, more than 100 people died in different parts of the province, and many remain missing.
This is not the first time devastating typhoons have hit the country; in fact, there have been more tragic ones, like Supertyphoon "Yolanda" (Haiyan) that left thousands dead in Guiuan, Eastern Samar, and Tacloban, Leyte in November 2013. Yolanda, a Category 5 typhoon, affected more than 14 million people in 44 provinces, displacing 4.1 million more. Its death toll was placed officially at more than 6,000 people, and 1,800 more were reported missing. Above all, it destroyed 33 million coconut trees that were the main source of people's income, and disrupted the livelihoods of 5.9 million workers. More than 1 million houses were also totally destroyed. The overall damage that Yolanda wrought was estimated at $5.8 billion. All these are from a report by World Vision, an international non-government donor agency that also provided substantial relief and rehabilitation assistance to Yolanda-struck communities in Samar and Leyte provinces.
Odette may have been a "kinder" typhoon than Yolanda was, but the experiences of survivors in both devastations are similar. For one, after Yolanda, the prices of commodities in Leyte and Samar went up quite drastically. I remember visiting Tacloban, Leyte, and Guiuan, Eastern Samar, a year after. I was part of an international group of researchers tasked to do an after-typhoon assessment by the International Organization of Migration (IOM) and the Brookings Institution (Washington, DC). Some friends from different local and international donor agencies that provided assistance to Yolanda survivors also recalled how fuel prices went sky high immediately after the typhoon by as much as P500 to P1,000 per liter. Car rental was also at astronomical rates of P10,000 to P20,000 per day. It was a good thing our team had access to IOM vehicles then so we did not have to deal with this extraordinary pricing of car rentals.
Jacking up prices of badly needed commodities and services shows how opportunistic merchants exploit the dire situation faced by survivors of disasters. It is sad that instead of helping survivors get back on their feet and providing them with much-needed assistance, many traders look at this as a means to get more profits at the expense of others' tragedy.
Those badly affected by Odette are now facing the same experience that Yolanda survivors went through. Some social media account holders have posted how prices of galvanized iron roofing sheets have become more expensive by as much as 50 percent. One of my relatives who lives in Bohol told me that right after Odette left many towns in complete destruction, fuel prices in Tagbilaran City went up by as much as P200 per liter, and supply was quite scarce.
United Nations Resident Coordinator Gustavo Gonzalez has called the situation in the aftermath of Odette a "crisis within a crisis." He noted that the country still has to deal with the detrimental consequences of the COVID-19 pandemic and now many of its impoverished communities are also badly hit by the typhoon. While the number of new infections has begun to decline, there are new reports of a slight increase in the numbers of COVID-19 cases last week. And there are threats of the new Omicron variant coming in.
But there is still another storm brewing, not maybe in our weather, but in the possibility of another bloody election in the coming year. That would certainly be a triple whammy for many impoverished communities ravaged by Odette.
Comments to [email protected]
Your daily dose of fearless views
For more news about the novel coronavirus click here.
What you need to know about Coronavirus.
For more information on COVID-19, call the DOH Hotline: (02) 86517800 local 1149/1150.
The Inquirer Foundation supports our healthcare frontliners and is still accepting cash donations to be deposited at Banco de Oro (BDO) current account #007960018860 or donate through PayMaya using this link.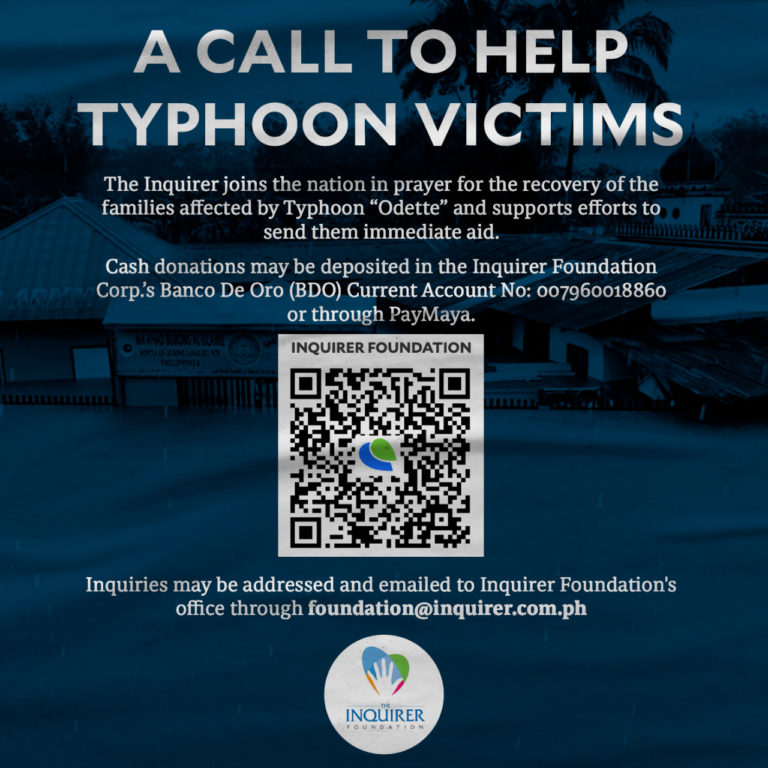 Subscribe to INQUIRER PLUS to get access to The Philippine Daily Inquirer & other 70+ titles, share up to 5 gadgets, listen to the news, download as early as 4am & share articles on social media. Call 896 6000.