Business Matters
An appeal for help
As if the burden and challenges of COVID-19 were not enough, we have now been experiencing what many of us in the Disaster Risk Reduction Management and Humanitarian field have feared: the convergence of disasters and calamities. It's the "perfect storm" we all should dread.
In the span of three weeks, four tropical cyclones have hit the country (and one just bypassed), leaving different regions reeling from challenges in response and early recovery, compounded by current gaps in economic and health systems due to COVID-19. Typhoon "Quinta" (international name Molave) came ashore on Oct. 25. Less than a week later, Supertyphoon "Rolly" (Goni)—the strongest tropical cyclone worldwide thus far—made landfall in Catanduanes. On Nov. 8, Tropical Depression "Tonyo" (Etau) hit, followed by the landfall of Typhoon "Ulysses" (Vamco) on Nov. 11.
These four storms affected more than 1.56 million families and took the lives of 125 persons.
Aside from the loss of human lives, damage to infrastructure, power, communications, and agriculture was significant. A total of P20.20 billion worth of infrastructure was damaged, while crop loss was estimated at P10.6 billion.
Apart from the economic losses created by COVID-19, one can imagine the degree of additional hardship piled on an already-distressed population. Immediate recovery is always difficult after a strong typhoon. The presence of COVID-19 adds more risk of the spread of infection as social distancing becomes next to impossible in crowded evacuation centers or where people shelter with relatives. And medium- to long-term recovery is difficult when infrastructure and economic assets are damaged and in need of repair and reconstruction.
The Philippine Disaster Resilience Foundation (PDRF), together with its private sector network and international and local humanitarian partners, has been actively working with government agencies and local governments to bring immediate assistance and save lives. Many companies and individuals have made contributions, but more are needed because damage is so widespread, from Northern Luzon to Metro Manila, Bicol, and Central and Eastern Visayas.
The PDRF has participated in two National Disaster Risk Reduction and Management Council-United Nations Joint Rapid Damage Assessment and Needs Analysis efforts, one in Catanduanes and one currently underway in Cagayan and Isabela. In all of this, the Filipino bayanihan spirit is evident in the hundreds of donation campaigns launched on social media by ordinary citizens, and in the organizations and companies that have mobilized efforts to help fellow Filipinos. Collective action—when utilized for the common good—can bring lasting positive impact. Still, more needs to be done.
If you're willing to help, we welcome contributions through the banks stated below, or feel free to contact us at [email protected] for any inquiries. Thank you so much for your support.
Bank: Bank of the Philippine Islands
Account Name: Philippine Disaster Resilience Foundation, Inc.
Peso Current Account: 0201-0512-15
Branch: Pasig Ortigas
Swift Code: BOPIPHMM
Bank: Rizal Commercial Banking Corporation
Account Name: Philippine Disaster Resilience Foundation, Inc.
Peso Current Account: 7590684073
Branch: Greenbelt, Legazpi St., Legazpi Village, Makati City
Swift Code: RCBCPHMM
—————-
Guillermo M. Luz is chief resilience officer of the Philippine Disaster Resilience Foundation (www.pdrf.ph).
For more news about the novel coronavirus click here.
What you need to know about Coronavirus.
For more information on COVID-19, call the DOH Hotline: (02) 86517800 local 1149/1150.
The Inquirer Foundation supports our healthcare frontliners and is still accepting cash donations to be deposited at Banco de Oro (BDO) current account #007960018860 or donate through PayMaya using this link.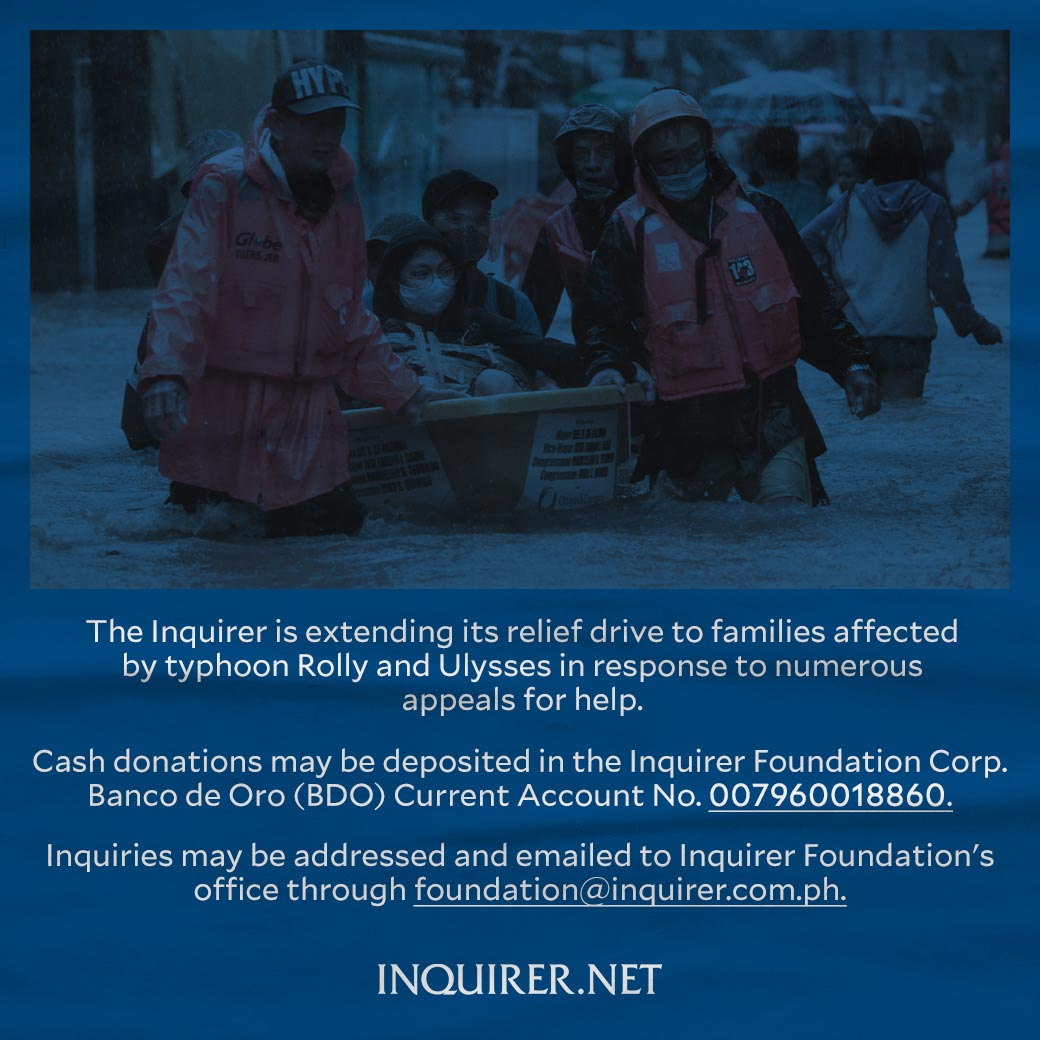 Subscribe to INQUIRER PLUS to get access to The Philippine Daily Inquirer & other 70+ titles, share up to 5 gadgets, listen to the news, download as early as 4am & share articles on social media. Call 896 6000.