GLIMPSES
May we be there for them
The enormity of the destruction of back-to-back typhoons hit me last weekend. While many colleagues were on the ground in Albay, Catanduanes, and the Camarines provinces do distribute relief items and food to Typhoon Rolly victims, Typhoon Ulysses struck a wide swathe of the whole Luzon with its massive rains. And where many of us were attending to the hunger situation in Metro Manila, the typhoon's rains made the metropolis a disaster area as well. It was heartbreaking seeing the floods sweep away the homes of the poor and flood everywhere else.
The next two days, the horror expanded when graphic scenes of the flooding were shared in traditional and social media. I saw pictures of the raging waters in Cagayan flooding everything and everyone. Then, Isabela reports followed. To think that I got the earliest pictures and stories from abroad, the United States and Europe, as Filipinos there shared what their relatives in the affected northern provinces sent them earlier. I was suddenly reminded that everything we took for granted, like ABS-CBN being there to give us live or quick updates from their extensive national network was not there anymore.
Frankly, cable TV, social media, and Netflix have long taken over my old TV time. But breaking news was still being served by ABS-CBN when it was still operational, and coverage of calamity or disaster areas nationwide could count on ABS-CBN showing them. Then, the network was gone and I had to scramble for bits and pieces here and there from Bicolandia to Isabela. Too bad, my scramble produced poor results versus what I had been used to.
Might as well, though. When one does not want to be overwhelmed with painful news, the best way is to not know them in the first place. For a short while, ignorance is bliss. But even without ABS-CBN, news from remote provinces will trickle in. Unfortunately, the ignorance can turn into frustration when you want to know more but you have to wait. By early Saturday, I knew enough to get terribly depressed.
From Bicol to the North and most provinces in between, I recognized the cities and towns that absorbed the most destruction. I recognized them because they were practically the same provinces, cities and towns that I had gone to in relief and rehabilitation work these last 20 years with Gawad Kalinga. I was part of relief work in Typhoon Ondoy and, again, they were the same communities that had been flooded, or had drowned. The sadness was personal because I know many of the communities.
I could hardly work during the weekend. I felt sorry for everybody and I felt sorry for myself. I felt overwhelmed, like a tidal wave of problems coming crashing down. I was already deep in the work of hunger mitigation as Metro Manila's hunger had tripled during the pandemic. Then, the typhoons simply magnified the numbers and intensified the need. I thought I would give up. After twenty years, I actually thought I would give up.
Rest, though, heals exhaustion. I woke up Monday to a clear and sunny day. When I looked around at the area surrounding the house, I could hardly see any trace of the typhoon's impact. Our area is one of the blessed one, higher in altitude than most of Metro Manila and never breached by flood waters. The sun and the scenery brought back my sense of gratitude that all was well for me, that I need not be depressed, that maybe an 8-month quarantine was just weighing me down. And I realized that resiliency is not only for those who are victimized by calamities and other misfortunes, and that resiliency is also required of those who have advocacies that aim to help others.
We in the private sector depend heavily on volunteerism, where even employed people take on smaller salaries in cognizance of the financial capacity of most NGOs. Resiliency becomes a must. I have seen many leave their mission (more a mission than a job) because they get emotionally tired. And their need to earn more in order to build a young family ultimately forces them to go and look for second best careers. Resiliency is a difficult virtue under sustained adverse conditions, even from those who help.
Yet, now, we have to stay focused. We are still inside a calamity environment. People who are not affected may miss the continuing drama of calamity victims because pictures of the flood are fast disappearing. After the extremely shocking moments when winds may tear down your windows and blow away your roofs, or the flood waters rising fast inside your house, the longer misery is to be cold and hungry when everything is gone. Evacuees and surviving victims become totally dependent on others. How do we shorten their misery and bring them back to normalcy?
There is also so much happening around disaster situations. The best of people, even among typhoon or flood victims, are the inspiring stories born of every disaster. I just read the post of one congressman from Isabela, his own depression suddenly turning into relieved happiness when the victims themselves kept smiling and sharing their stories with him. And all he had was food packs to share with them – plus, I assume, his presence as the reassurance that they were not forgotten.
The worst, too, come out. There are the usual profiteers, those who exploit the misery of others for personal gain. Then, there is this constant bickering among some politicians and partisans, unable to be sensitive to the misery of others.
We have to live through all these in the worst of times for us to, hopefully, find kindness and generosity if we are blessed, and fortitude and courage if we have suffered. In the cycle of life that I have seen in seven decades, I cannot yet see how our poor and our weak can find more security and cushion against the elements by themselves. May we be there for them.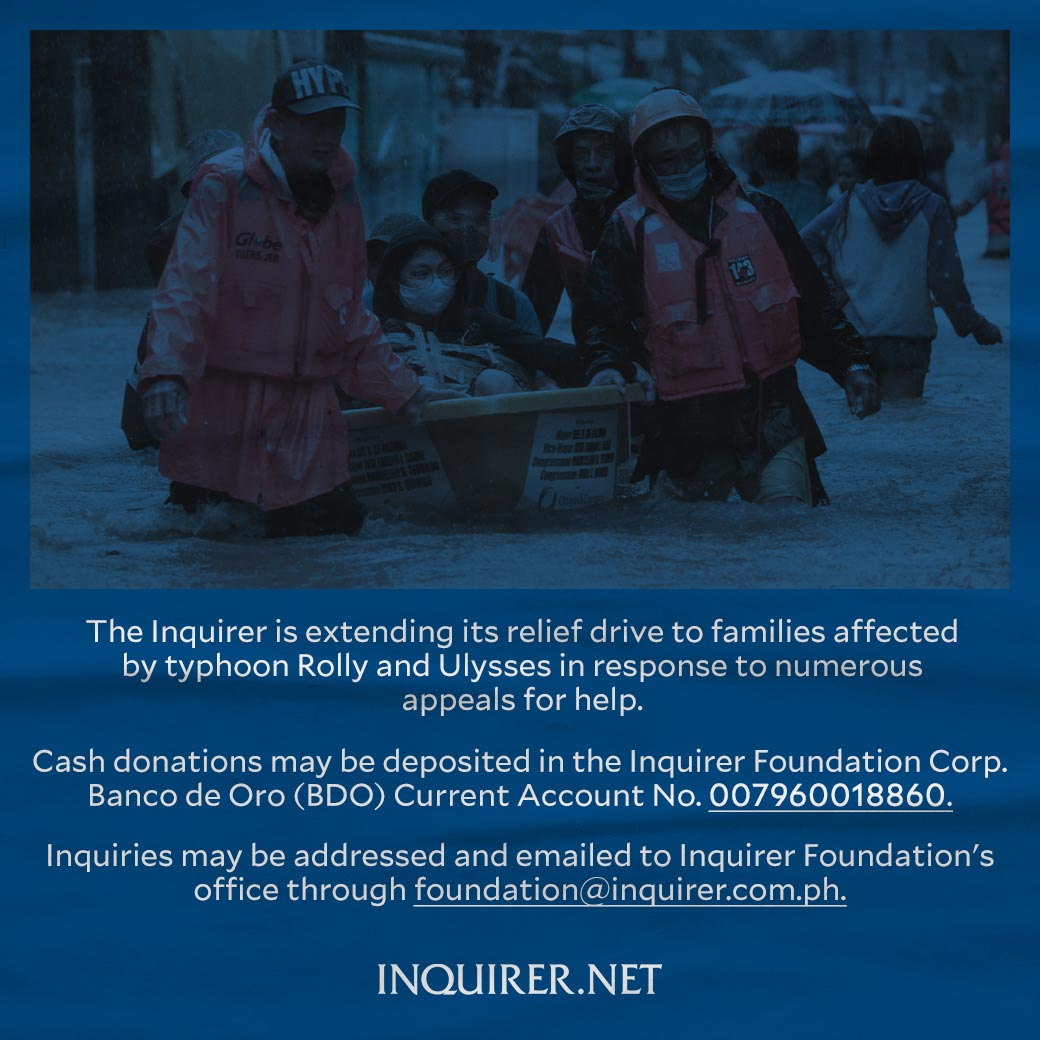 Subscribe to INQUIRER PLUS to get access to The Philippine Daily Inquirer & other 70+ titles, share up to 5 gadgets, listen to the news, download as early as 4am & share articles on social media. Call 896 6000.